Reading Time:
4
minutes
Get rich or die trying
BERLIN, GERMANY – In the modern success-driven society talking about own failures requires serious guts. All those highly creative, charismatic young entrepreneurs who think rich and look poor never miss a chance to share the stories of their climbing the success mountain. Countless coaches are promising to make the rock-star out of you and your ideas for the immodest sum of money. Social media feeds are full with instructions "How to" and motivational quotes. This world is all about success!
It simply doesn't leave us a choice – run after success or there is no place for you in the world of creative, innovative, motivated and goal-oriented. The recipe for this cake is pretty simple: follow your dream – don't give up – work hard – be positive. We have heard all this for thousand times, and we admire those who managed, those whom we entitle "role models". The success of others may be inspirational, on the other hand, you might get frustrated once started comparing those allegedly flawless stories to your own. Making you believe that you're the only one having downs when everyone else is having ups.
Fucked up? You're welcome!
Those might have been the thoughts of the founders of the following social event: Fuckup Nights. The idea that started in Mexico in 2012 meanwhile outgrew into a global movement and currently is embracing around 50 cities on all the continents.
The basic idea of Fuckup Nights is the following: entrepreneurs are invited to share their failure stories with the public, not in order to evoke some sympathy, but rather with an educational goal – to show that failure is nothing to be embarrassed of, failure belongs to the success. The way of presentation is free and usually quite entertaining – the speakers look back at their fuckups with a self-irony and positive vibes.
Sure, not everyone dares to confess their flops. Therefore, those who volunteer to speak at Fuckup Nights definitely belong to the new kind of entrepreneurs – those who defeated the success-stigma. I have attended Fuckup Nights two times so far – once in Magdeburg, and more recently in Berlin. The latest event had the capacity of around 200 guests – and twice this much clicked on "attending" in the Facebook event and were storming the doors of the company Partake, which kindly agreed to host the event. So much about the popularity of the Fuckup Nights…
Those who dared
The three speakers of that night were extremely different in the fields they came from as well as in the way they presented their stories. But the audience loved all of them. Thomas Wenzel opened the night and took us back to the pre-app era – to the early 2000s. Back then German television (I guess as well as everywhere else) was full of annoying commercials for mobile ringtones and games. This market was brand new and many discovered a golden mine in it. Thomas was exactly one of those. He was trying his luck with the mobile game Fahrschool (driving school) – a simulator of a theoretical test for a driving license. Despite the popularity of the game, promotion on popular TV channels and even involvement of German movie-star Till Schweiger, the idea was too big for the mobile industry of that period. The market, the devices, the providers were simply not ready for this product, thus Thomas was forced to close the Fahrschool project after several years of enthusiastic hard work. Ironically, some years later iPhone took the stage and brought the app-phenomenon into our vocabulary and our daily life.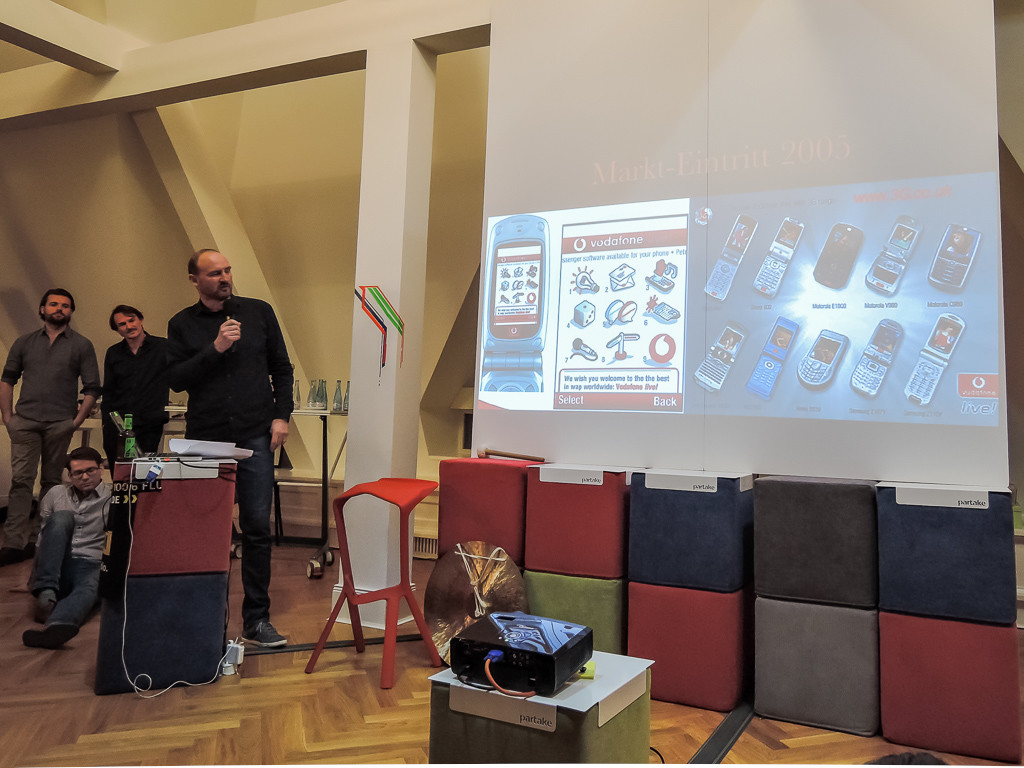 After a brief round of questions Ruth Barry took the floor. Probably, her speech was not what the audience was expecting – Ruth didn't go bankrupt or invested in a wrong project – her life is her start-up. Originally from Scotland, Art graduate and successful model, Ruth landed opening her bakery in Berlin. How did that happen? Well, a long and complicated story which Ruth will tell herself on the pages of MissCareerless very soon. So stay tuned! For now, I can reveal you only one thing – Ruth's pastry is amazing!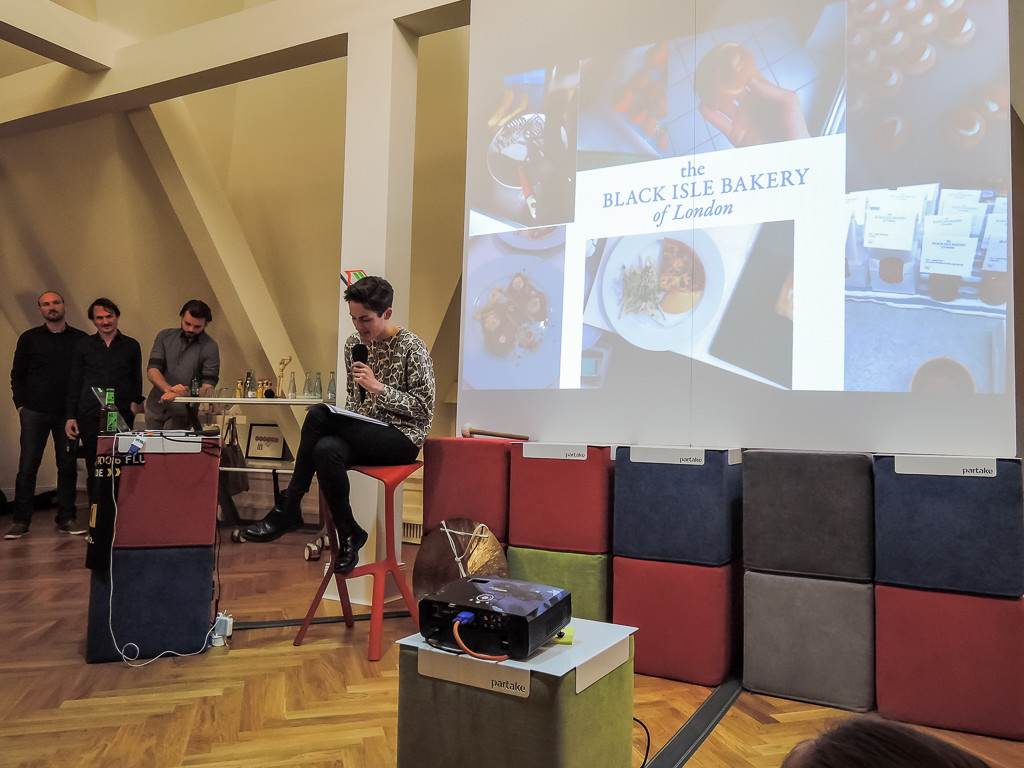 The third speaker – utterly charismatic Darius Moeini – introduced the story of his fuckups with a lot of humor and positivity. Darius belongs to those people who create an impression that they never fail at anything. After graduating from a business school Darius was working abroad and was very much affected by the entrepreneurial spirit of the United States. The misfortune with his first project didn't scare Darius out of the business world, instead – having learnt from his own mistakes he is supporting young entrepreneurs through his company Berlin Startup Consulting. Although Darius insists that the success of this enterprise is much due to his outstanding team and gives everyone a very important advice: "Don't do business with people you don't like". No matter how smart, educated, creative or experiences you may be – with a strong team of such crazy and devoted folks like yourself you will go far beyond your success. And therefore the wisdom of the night from Darius Moeini is: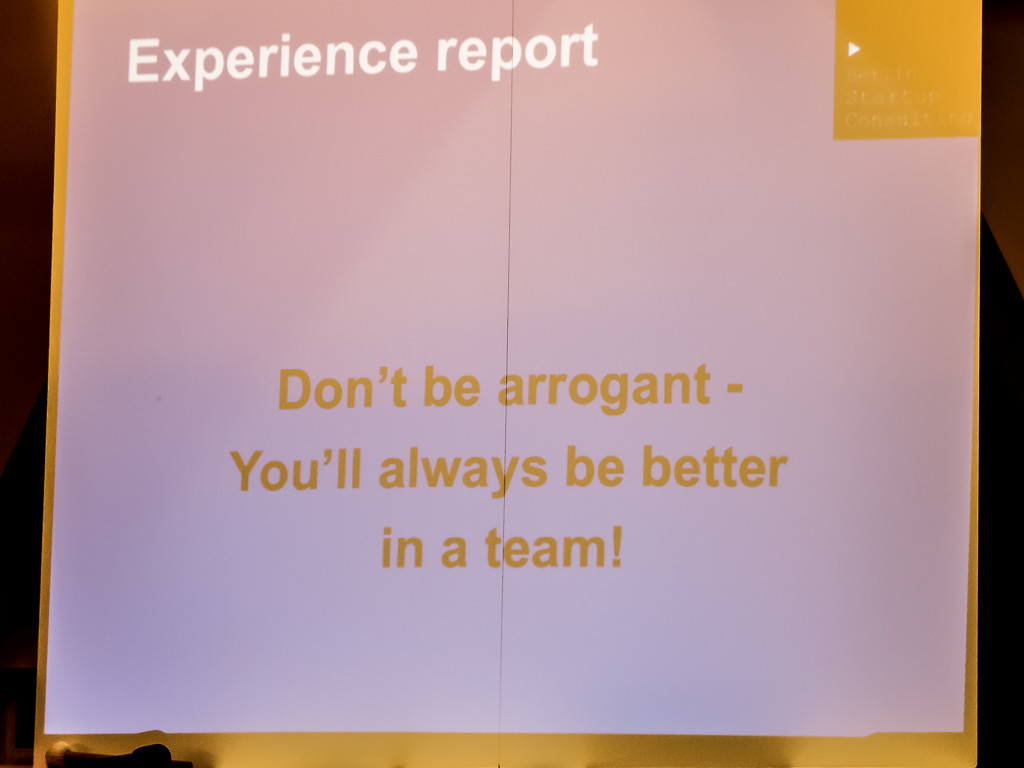 I have mentioned already that the event was extremely well attended.
Why do people go to Fuckup Night?
First, because they're tired of glossy success stories. Second, because it's a great place for networking. Third, because there we learn that even a failure is a step up not a step down.
And you? Still perfect?
In the end of Fuckup Night the host is usually asking if anyone from the audience would like to talk about their failures in public. I really wish that soon people start talking. But for now I'm inviting you to share your fuckups with MissCareerless. The comment section is all for you as well as our Social Media pages. Dare!
ABOUT THE AUTHOR
Hanna was born in the USSR, grew up in Belarus and nowadays lives in Germany, travelling eagerly whenever there is an opportunity. Nowadays she is a Social Media Manager and one of the Directors of online magazine OneEurope, where she is involved in countless activities managing a team spread out through the whole Europe.Hanna's current goal is to start a career in the field of PR & Communication in Berlin, she has a strong interest in the start-up stage, passion for technology and huge drive for creation and development. More about Hanna…